Tiga cars were designed and built from 1974 and supplied varying formula: Formula Ford, Formula Ford 2000, Formula Atlantic/Pacific, Thundersports, Can-Am, Sports 2000, Formula K, IMSA, Group "C".
The cars scored numerous wins over a 15 year period.
Most notable championship wins were British Sports 2000 1979 to 82 and European Sports 2000 1983 to 85, SCCA U S National Championship 1980, Le Mans Group C 1985, World Championship Group C 1985, Daytona 24 Hours Camel Light 1987 to 88, IMSA Camel Light Championship 1988.
Almost 400 cars were built and sold in this period.
Career of Howdon Ganley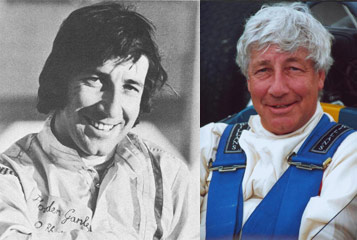 It took a long time for Ganley to realise his ambition to become a Grand Prix driver - which was fired by a visit as a youngster in his native New Zealand to the Grand Prix at Ardmore in 1955. He sailed for England in 1961 with just $50 in his pocket, and found employment as a mechanic preparing cars at a racing school. The urge to drive was occasionally satisfied over the next few years, but his engineering talent kept him well occupied (and paid), so his racing career was on hold.
It was 1967 before Howden embarked on a serious season of Formula 3 in his own shiny-new Brabham which had been financed by his engagement as crew chief for Skip Scott and Peter Revson in the 1966 Can-Am series.
Howden plugged away in the formula for another two seasons, mixing it with the best, hoping for the big break which was to come in 1970.
Given the opportunity to compete in F5000, he finished runner-up to Peter Gethin in the championship with a private McLaren M10B, and this success brought an offer to join the BRM team for 1971 as a junior driver.
It was a mixed first season, but Howden scored some points at Monza and Watkins Glen, and in non-championship races finished second in the Oulton Park Gold Cup, fourth in the Jochen Rindt Memorial at Hockenheim and fifth in the Race of Champions. Continuing with BRM for 1972, he did not enjoy the best of seasons, again being restricted in the main from using the latest chassis. The high spot of his year came in a different arena, with second place at Le Mans sharing a works Matra with Cevert.
For 1973 Howden threw in his lot with Frank Williams and the Iso-FX3, which was to be a severe disappointment for all concerned, with only a sixth place in Canada salvaging some pride.
The season was redeemed a little by his inclusion in the Gulf / John Wyer sports car team, for whom Ganley's best result was second in the Spa 1000 Km in the Mirage with Schuppan.
Ganley started the 1974 season racing for March in the first two GPs, taking fifth in the GP Presidente Medici - a Brazilian non-championship race - he then accepted an offer to drive the F1 Maki car. A suspension failure in practice for the German GP left Ganley with serious foot and ankle injuries that ended his Grand Prix career.
Howden, later ran Tiga Cars with Tim Schenken, and is currently a board member of the BRDC at Silverstone.